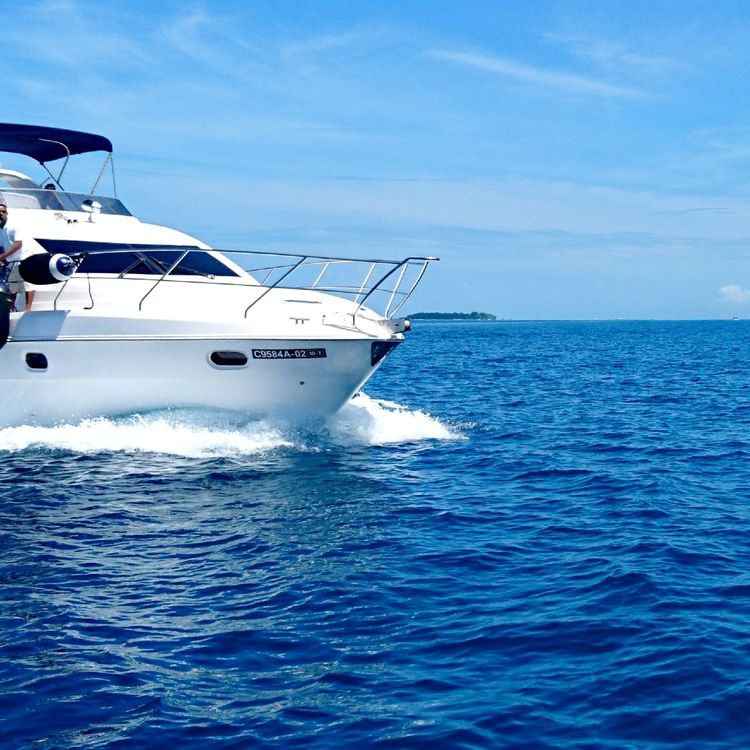 Discover the beautiful Algarve with the Yacht Atlantis 42! Experience the stunning coastal beauty with a luxury and elegant motor yacht. On board, you'll find all of the equipment necessary to have a good time.
The yacht has 2 bedrooms and 2 bathrooms with a shower. It's equipped with mattresses to enjoy the sun, space of leisure to shadow, WiFi, bluetooth and air conditioning. The maximum capacity for this yacht is 10 people. The boarding point is Portimão.
Price includes:
1 Padel Board
Snorkeling gear for 4 people
Soft drinks
Beer
White and Rosé Wine
Snacks and fruit
Tours & prices
Sunset Tour: € 800,- for 2,5h with a full fridge, a certified skipper and 1 staff member
Half day Tour: € 950,- for 3,5h with a full fridge, a certified skipper and 1 staff member
Full day Tour: € 1900,- for 8h with a full fridge, a certified skipper and 1 staff member
Extra information
All our boats comply with safety standards and have all the safety equipment required by Portuguese legislation. We inspect our yacht annually. Safety always comes first.
Many of our charters are for families and we always keep this in mind when planning your trip. We are very accustomed to taking into account the needs of children: from babies, young people and even adrenaline looking for teenagers. We strive to make your luxury cruise truly memorable, we put a lot of energy into planning routes, destinations and activities based on sea conditions, climate and type of group. As sea conditions vary from hour to hour, we make changes to the itineraries in your best interest.
What do I need to bring with me during the day?
Sunscreen is very important, also a hat or cap is very much needed because summer temperatures are often above 30 degrees. Bring your bathing suit and towels. Of course, don't forget your camera to capture all the beautiful moments.
So why wait? Book your yacht rental today and start planning your dream vacation in the Algarve!
Apply a request