A holiday with that rich feeling!
The best holiday villas in Portugal in one place
Personal advice and contact
20+ years of experience
Rent directly from the owner
Safe and no hidden costs
9.6 (52 reviews)
What are you looking for?
The villa specialist in the Algarve
The best villas in the Algarve can be found here"
There are those houses that make your heart beat faster. For example because of the quality, architecture, location or special atmosphere. Portugalvillas is proud to present you some of those special houses. We therefore dare to state with confidence that anyone who rents a villa through us will have an unforgettable holiday.
Tom Temmink
Hope to see you in Portugal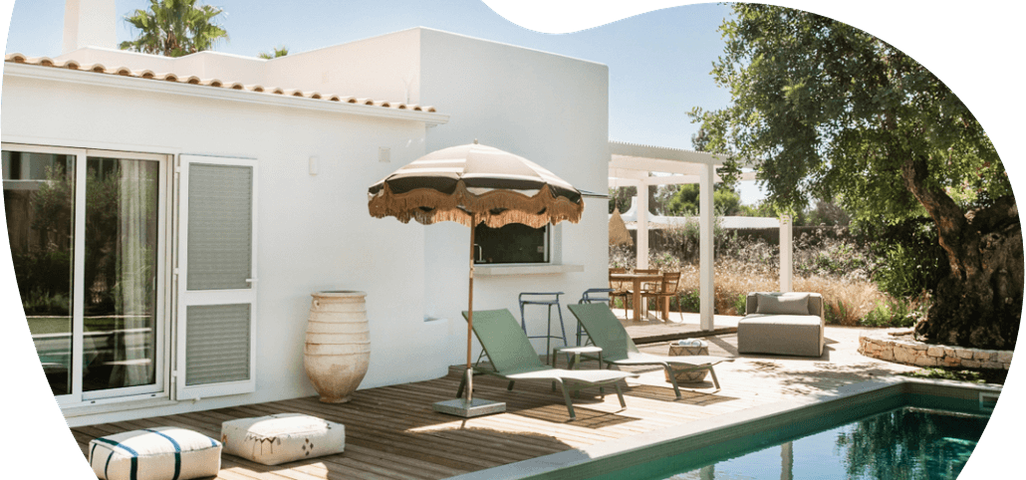 Reviews from guests
Zeer alert. En goede selectie!
Belangrijk dat er goed wordt meegedacht Ook prima bereikbaarheid Prima woningselectie
Hen, Hazerswoude 09 November 2022
Top service en een geweldig huis!
Super service van Tom, geen moeite is teveel. Wij hebben een heerlijk verblijf gehad in Casa Dos Terracos, het mooiste huis waar we tot nu in mochten verblijven in de Algarve. Alles rondom de boeking en het verblijf top geregeld. Chapeau!
Paul, Amsterdam 09 October 2022
Prachtig huis op adembenemende locatie.
Fijne ontvangst en een heerlijk, sfeervol huis van alle gemakken voorzien. Het uitzicht op de rivier / vallei is wondermooi. Zwembad is mooi, schoon en heerlijk verfrissend. Super vakantieplek!
Rebekka, Veldhoven 26 September 2022
Wat je ziet is wat je krijgt
De foto's van het huis dat we huurden bij Portugal Villas waren zo mooi dat we bijna dachten dat ze gephotoshopped waren. Maar niets is minder waar. We kwamen in het paradijs (Casa Cereja in Boliquieime). De ontvangst door Sandra was heel warm, en dat bleef ons hele verblijf zo. Het ontbrak aan niets in en rond de villa. Het zwembad is heerlijk, de enorme tuin met vele zithoeken een genot. Ook de boeking verliep perfect, vragen die we hadden werden snel beantwoord en alles klopte. Kortom: wij zijn erg tevreden en boeken graag weer bij Tom!
Joris, Heesch 19 September 2022
Fijn contact, uitstekende service
Via een vriend ben ik in contact gekomen met Portugal Villa's . Ik belde zeer kort van tevoren met de vraag of er voor ons een villa beschikbaar was in de Algarve. Het was direct geregeld en 2 dagen later hebben we een week lang een heerlijk verblijf gehad in een fantastisch huis!
Jan van Lingen, Heemstede 19 September 2022
Prachtige villa in Silves
Wij verbleven eind augustus een week in Quinta Canine, te Silves. Hartelijk ontvangst, prachtige locatie en idem huis/tuin van alle gemakken voorzien. Precies zoals op de foto's. Jacuzzi niet kunnen gebruiken door omstandigheden (teveel chloor; na herstel te koud) maar dat werd ruimschoots gecompenseerd door alle overige fijne faciliteiten. Vanuit huisje binnen 5 min rijden bij supermarkt. Stranden op 20/30 min rijden. Enige echte nadeel was het eindeloze geblaf van honden in de omgeving. Voor Portugese begrippen niet vreemd, maar deze waren zeer volhardend helaas. Desondanks top vakantie gehad en wellicht komen we nog eens terug hier!
Rachel, Eijsden 19 September 2022
Mooie huizen
Huizen zijn met smaak uitgezocht en hebben een mooie architectuur. Alles is in de Algarve en daarom vaak stranden en dorpjes binnen bereik.
Ed, Alphen aan den Rijn 12 September 2022
Een Toplocatie
Het is een heerlijk huis met alles erop en eraan op een prachtige locatie.
Jolanda, Naarden 04 September 2022
Super !
Een hele duidelijke mooi en overzichtelijke website met prachtige huizen in verschillende prijsklassen. de omschrijving van de huizen is goed en de vele foto's geven duidelijk de sfeer van de inrichting weer. Daarnaast is de service , het contact en de afhandeling van Portugal Villa's heel attent en professioneel . Ook de prijs kwaliteit verhouding klopt . Wij hebben erg genoten van ons verblijf in de Algarve en zullen zeker nog eens gebruik maken van deze site en aanbieder van huizen in Portugal!
Ratna, Amsterdam 02 September 2022
Heel goed
Wanneer ik Tom Temmink bel voor advies, dan weet hij precies wat ik leuk vind. Tot nu toe 3 verschillende huizen bij Portugal Villa's gehuurd en met alle 3 heel blij geweest. Ook zijn vrienden van ons goed door hem geholpen toen ze last minute een huis nodig hadden omdat ze door een ander verhuur-organisatie een bouwval hadden gehuurd welke op foto's er erg goed uitzag.
Hans Sterken, Laren nh 21 August 2022
Our guarantees for a carefree holiday
Personal advice & contact
You can always count on personal advice and efficient handling of your booking.
Exclusive collection
All villas have been personally visited and the offer comes directly from the owner and our private selection.
Fully equipped
All our villas are equipped with a swimming pool and all modern comforts.
Everything for a complete holiday
During your stay you can always count on extra services such as a private chef at home or a wonderful massage.